Reporting on Data Exchange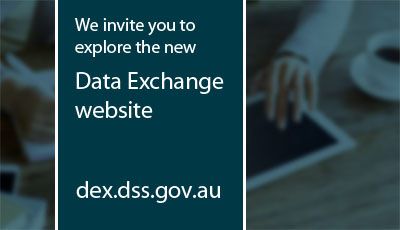 What is the Data Exchange?
The Data Exchange is a program performance reporting solution developed by the Department of Social Services (the department) in consultation with service providers and clients. It allows service providers to report their service delivery information and demonstrate the outcomes they are achieving for their clients.
The name 'Data Exchange' reflects the 2-way partnership of information sharing between government agencies and service providers, enabling both to find smarter and more efficient ways of improving service delivery, and understanding the overall outcomes being achieved for individuals, families and their communities.
The Data Exchange requirements are divided into 2 parts, including:
a small set of mandatory priority requirements that all service providers report
an extended data set known as the Partnership Approach.
Government agencies using the Data Exchange are:
Commonwealth Department of Social Services
Commonwealth Attorney-General's Department
Commonwealth Department of Health
Commonwealth Department of Home Affairs
Commonwealth Department of Agriculture
NSW State Department of Communities and Justice
You will find essential information on the Data Exchange website.
Once you log into the Data Exchange portal, you can subscribe to receive notifications, access the Top 6 resources or contact the department for assistance or provide feedback.
You can also access information and guidance for Data Exchange users, including general information, technical access information and training resources, including task cards, webinars, and learning modules.