Community Child Care Fund (CCCF) - Round 2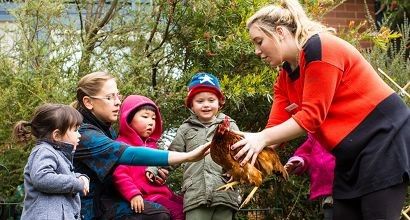 Grant Category
Child Care
The Australian Government is inviting applications from eligible child care services in an open competitive process to apply to deliver services under the CCCF from 1 July 2019 to 30 June 2021.
The CCCF is part of the Australian Government's Child Care Safety Net, which contributes to giving the most vulnerable children a strong start in life while supporting parents into work.
Grants provided under the CCCF are intended to supplement fee income received from families, including Child Care Subsidy and Additional Child Care Subsidy payments.
The intended outcomes of the CCCF are to:
improve early childhood development outcomes for vulnerable and disadvantaged children
and
increase workforce participation by vulnerable and disadvantaged families.
More information
More information about the CCCF, as well as requirements for applicants, can be found in the following grant opportunity documents:
Grant Opportunity Guidelines
Questions and Answers
Grant Application Support Resources
Budget Template – Capital Support
Budget Template – Community Support
Budget Template – Sustainability Support
Sample Standard Grant Agreement with Grant Conditions
Translating and Interpreting Services costing tool
The Department of Education and Training has identified a list of priority areas that experience particularly high levels of disadvantage compared to most other communities. For these priority areas see the following link:
Advice to potential applicants:
As part of the application process, applicants will be required to provide the Organisation ID Number for the approved provider and the Organisation ID Number for the approved child care service where the proposed activity will be delivered.
To obtain your Organisation IDs, you will need to contact the Community Grants Hub on 1800 020 283 or email support@communitygrants.gov.au.
Please have your CCS ID available prior to contacting the Community Grants Hub.
Subscribe to receive updates
Organisations and individuals interested in Community Grants Hub grant rounds are encouraged to subscribe to receive alerts when new information is made available.
Other future grant opportunities are published on GrantConnect, the Australian Government grants information system.
Contacting the Community Grants Hub
If you would like assistance, please call the Community Grants Hub Hotline on 1800 020 283 or email support@communitygrants.gov.au.
More information about the Community Grants Hub can be found on the Community Grants Hub website.
Please quote 2018-2522 – Community Child Care Fund Round 2 when you phone or email the Community Grants Hub.
To apply go to the application forms below: