Destination Australia Program 2021 (Round 2)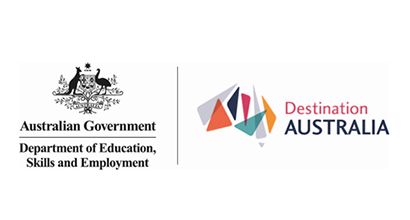 Grant Category
Higher Education Vocational Education
Delivered on behalf of
the Department of Education, Skills and Employment
Students will not be able to directly apply to the Community Grants Hub or the Department of Education, Skills and Employment for a scholarship.
Students will only be able to apply for a scholarship directly with a successful tertiary education provider once the outcomes of the 2021 grant round are known later in 2020. A list of the successful tertiary education providers will be published on GrantConnect and the Department of Education, Skills and Employment website at that time.
The Australian Government invites applications through a targeted competitive process to deliver services under the International Education Support Outcome – Destination Australia Program 2021 (Round 2) from 2020-21 to 2023-24.
The objective of the grant opportunity is to attract and support international and domestic students to study in regional Australia, to grow and develop regional Australian tertiary education providers and offer students a high quality learning experience.
The Destination Australia Program 2021 application round may have a greater proportion of domestic scholarships awarded due to the COVID-19 pandemic travel restrictions.
The program will:
enhance regional and remote Australian education institutions through promoting activities that contribute to growth and sustainability
offer students from Australia and overseas the opportunity to undertake high quality education, training and research in, and to experience life in regional and remote Australia
ensure regions share in the social, cultural, and economic benefits of our international education sector.
The intended outcomes of the grant opportunity are:
international and domestic students receive tertiary education provider scholarships, funded by the Australian Government, for studying in regional Australia
increased awareness of the benefits of living, studying and working in regional Australia.
The program will provide grants to eligible Australian tertiary education providers to allocate, administer and promote scholarships for international and domestic students studying in regional Australia.
More information
More information about the Destination Australia Program 2021 (Round 2), as well as requirements for applicants, can be found in the following grant opportunity documents:
Grant Opportunity Guidelines
Questions and Answers
Sample Commonwealth Simple Grant Agreement with General Grant Conditions
Sample Commonwealth Simple Grant Agreement Supplementary Terms
Consortium Members Details attachment
Subscribe to receive updates
Organisations and individuals interested in Community Grants Hub grant rounds are encouraged to subscribe to receive alerts when new information is made available.
Other future grant opportunities are published on GrantConnect, the Australian Government grants information system.
Contacting the Community Grants Hub
If you would like assistance, please call the Community Grants Hub Hotline on 1800 020 283 (option 1) or email support@communitygrants.gov.au.
More information about the Community Grants Hub can be found on the Community Grants Hub website.
Please quote 2019-3474 – Destination Australia 2021 (Round 2) when you phone or email the Community Grants Hub.