Future Drought Fund: Networks to Build Drought Resilience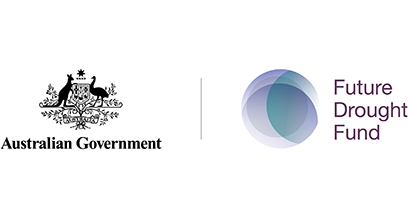 Delivered on behalf of
Department of Agriculture, Water and the Environment
The Australian Government is inviting applications to deliver services under the Future Drought Fund: Networks to Build Drought Resilience Program.
This Program will:
improve community connectedness and collaboration through building community network members' skills and social network diversity and sharing of learnings amongst agriculture dependent communities
increase social networking, support and engagement and wellbeing and reduce social isolation through increasing participation in community networking events/conferences, stimulating higher rates of innovation in the local economy and the agricultural sector over time
improve community networks access to risk management information and training, increasing the capacity of community networks to participate in regional drought resilience planning
increase community economic development and diversification opportunities to improve access to meeting places and facilities, reducing social isolation and improving community wellbeing over time
deliver small scale projects, such as improving meeting places for the network members, that assist the management of the network, and community facilities that support community drought resilience.
The successful grantee will deliver the project's activities tailored to the needs of particular agriculture dependent communities across Australia, ensuring that there is equity and opportunity for people throughout agriculture dependent communities to participate.
More information
More information about the Future Drought Fund: Networks to Build Drought Resilience Program, as well as requirements for applicants, can be found in the following grant opportunity documents:
Grant Opportunity Guidelines
Questions and Answers
Registration of Interest
Project Plan template
Budget Plan template
Risk Management Plan template
Sample Grant Agreement
Subscribe to receive updates
Organisations and individuals interested in Community Grants Hub grant rounds are encouraged to subscribe to receive alerts when new information is made available.
Other future grant opportunities are published on GrantConnect, the Australian Government grants information system.
Contacting the Community Grants Hub
If you would like assistance, please call the Community Grants Hub Hotline on 1800 020 283 (option 1) or email support@communitygrants.gov.au.
More information about the Community Grants Hub can be found on the Community Grants Hub website.
Please quote 2020-4186 - Networks to Build Drought Resilience when you phone or email the Community Grants Hub.