Soil Science Challenge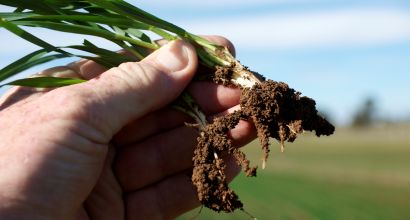 Grant Category
Scientific Research
Delivered on behalf of
Department of Agriculture, Water and the Environment
Applications are being accepted for up to $5 million total funding over 4 years for the Soil Science Challenge.
The competitive process is aimed at research organisations, with new projects that add to Australia's soil health knowledge and address one of the following research priorities:
Soil carbon dynamics
Soil hydrology
Soil biology and nutrients
Soil/root interface
The objectives of the Soil Science Challenge are to:
support research to address priority gaps in the current soil-related science knowledge base; those findings are to be provided for peer review and should be prepared in a manner suitable for publishing
support research that contributes to the knowledge base necessary to achieve the goals of the National Soil Strategy
provide Australia, including industry, farmers and other land managers, with new and improved soil science to influence soil health, leading to improved productivity, profitability, resilience and to assist in mitigating climate change.
The Soil Science Challenge is part of the Australian Government's commitment to a $214.9 million National Soil Package to implement the National Soil Strategy. The National Soil Strategy sets out how Australia will value, manage and improve its soil for the next 20 years. The strategy prioritises soil health, empowers soil innovation and stewards, and strengthens soil knowledge and capability. For more information about the National Soil Package and the National Soil Strategy visit the National Soil Package website. 
More information
More information about the Soil Science Challenge, as well as requirements for applicants, can be found in the following grant opportunity documents:
Grant Opportunity Guidelines
Questions and Answers
Sample Commonwealth Standard Grant Agreement
Sample Commonwealth Standard Grant Conditions
Sample Commonwealth Standard Grant Agreement Supplementary Terms
Sample Application Form
Subscribe to receive updates
Organisations and individuals interested in Community Grants Hub grant rounds are encouraged to subscribe to receive alerts when new information is made available.
Other future grant opportunities are published on GrantConnect, the Australian Government grants information system.
Contacting the Community Grants Hub
If you would like assistance, please call the Community Grants Hub Hotline on 1800 020 283 (option 1) or email support@communitygrants.gov.au.
More information about the Community Grants Hub can be found on the Community Grants Hub website.
Please quote 2021-5173 – Soil Science Challenge when you phone or email the Community Grants Hub.
Feedback Files
Application Pack