Our Marine Parks Round Two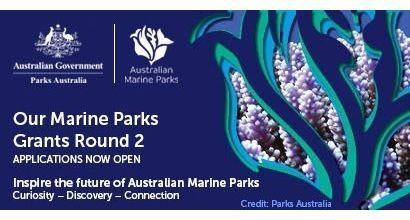 Grant Category
Natural Resources - Conservation and Protection
Delivered on behalf of
Department of the Environment and Energy
The Our Marine Parks Grants program (the Program) was announced on 1 July 2018 to assist industries and communities to transition to the new management arrangements for Australian Marine Parks.
This second round of the Program is dedicated to the many groups and sectors that have an interest in how Australian Marine Parks are managed and the capability and capacity to assist the Director of National Parks with this important task. The objectives of this grants round are two-fold:
to support interested and capable organisations and community groups to engage in marine park management; 
to improve knowledge and understanding of Australian Marine Parks. 
This will be achieved by funding projects that best contribute to the desired vision, objectives and 10-year outcomes of the management programs identified in the Australian Marine Parks management plans (or for the South-east Network, the Management Strategies identified in the management plan). 
For more information visit the Australian Marine Parks website.
More information
More information about the Our Marine Parks Round Two Grant Opportunity, as well as requirements for applicants, can be found in the following grant opportunity documents:
Grant Opportunity Guidelines 
Questions and Answers 
Standard Grant Agreement 
Commonwealth Standard Grant Conditions
Standard Supplementary Terms
Project Plan Template
Budget Template
Subscribe to receive updates
Organisations and individuals interested in Community Grants Hub grant rounds are encouraged to subscribe to receive alerts when new information is made available.
Other future grant opportunities are published on GrantConnect, the Australian Government grants information system.
Contacting the Community Grants Hub
If you would like assistance, please call the Community Grants Hub Hotline on 1800 020 283 (option 1) or email support@communitygrants.gov.au.
More information about the Community Grants Hub can be found on the Community Grants Hub website.
Please quote 2018-2601 Our Marine Parks Round Two when you phone or email the Community Grants Hub.