2021 to 2024 Rural Financial Counselling Service Program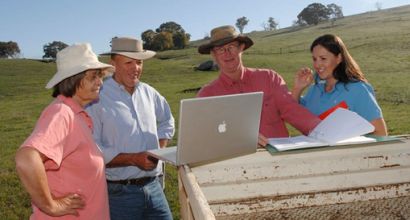 Grant Category
Rural Development
Delivered on behalf of
the Department of Agriculture, Water and the Environment
The Australian Government is inviting applications via an open and competitive process to apply to deliver services under the RFCS Program in the 12 predefined service regions from 2021–22 to 2023–24. Applicants may apply for more than one service region, including across different states.
The RFCS Program is an Australian Government initiative that provides free and independent financial counselling to eligible farmers, fishers, foresters and small related enterprises who are experiencing, or at risk of, financial hardship. 
The vision for the 2021 to 2024 RFCS Program is to empower clients to take control of their financial situation and cultivate financially capable primary producers that are profitable, self-reliant and resilient.
The objectives of the RFCS Program are to:
transition clients out of financial crisis
improve clients' business profitability or facilitate a dignified exit
improve clients' financial well-being and resilience.
The overarching outcome of the program is that clients who engage with the service become financially self-reliant and their businesses are better prepared to deal with risks.
More information
More information about the RFCS Program as well as requirements for applicants, can be found in the following grant opportunity documents:
Grant Opportunity Guidelines 
Questions and Answers 
Program Logic
Program Logic Infographic
RFCS Region Fact Sheet – NSW
RFCS Region Fact Sheet – QLD 
RFCS Region Fact Sheet – SA and NT
RFCS Region Fact Sheet – TAS
RFCS Region Fact Sheet – VIC
RFCS Region Fact Sheet – WA  
Example Budget Template
Monitoring, Evaluation and Assurance Framework Summary
Sample Commonwealth Standard Grant Agreement
Sample Commonwealth Standard  Grant Conditions 
Sample Commonwealth Standard Grant Supplementary Provisions 
 
Subscribe to receive updates
Organisations and individuals interested in Community Grants Hub grant rounds are encouraged to subscribe to receive alerts when new information is made available.
Other future grant opportunities are published on GrantConnect, the Australian Government grants information system.
Contacting the Community Grants Hub
If you would like assistance, please call the Community Grants Hub Hotline on 1800 020 283 (option 1) or email support@communitygrants.gov.au
More information about the Community Grants Hub can be found on the Community Grants Hub website.
Please quote 2020-4216 – 2021 to 2024 Rural Financial Counselling Service Program when you phone or email the Community Grants Hub.